VISIT ALL 14 RIVERFRONT TOWNS IN THE 4 PORT LOOP:
BANGOR, BREWER, BUCKSPORT, CASTINE, FRANKFORT, HAMPDEN, ORLAND, ORRINGTON, PENOBSCOT, PROSPECT, SEARSPORT, STOCKTON SPRINGS, VERONA ISLAND AND WINTERPORT.
WE ARE JUST A CLICK AWAY!
SEE THE 4 PORT LOOP TOWNS COME TO LIFE WITH MARITIME HISTORY! USE THE CELL PHONE APP TO TAKE SELF-GUIDED TOURS ANY TIME, ANY DAY. PACK A PICNIC AND TAKE A LEISURELY SUNDAY DRIVE BY CAR, BOAT, BIKE OR EVEN ON FOOT!
DOWNLOAD THE CELL PHONE APPS TODAY:
4PORTLOOP.ONCELL.COM (ANDROID) & 4PORTLOOP.STQRY.APP (IPHONE) AVAILBLE AFTER JULY 1ST.
Celebrate with us
July 1-24, 2021
The Penobscot Maritime Heritage Association is celebrating Maine's 200th birthday with a big splash! We will be honoring Maine's rich maritime past in the historic ports of Bucksport, Orrington and Searsport that are part of the geographic area known as the "4-Port Loop."
The mission of the Penobscot Maritime Heritage Association is to provide a historical perspective of the Penobscot River Basin and create tourism and economic opportunities in the Penobscot River Basin with the goals of making the 4-Port Loop a vacation destination in Maine and maintaining it as a sustainable annual event. We hope you will join in the fun.
Thousands of interested spectators visited the town of Bucksport to view the Tall Ship Nao Santa Maria. The maritime attraction drew guests from around the state who enjoyed the welcoming hospitality of the small riverfront community and the spectacular views of the ship against the background of historic Fort Knox and the technologically innovative Penobscot Narrows Bridge. Local businesses and the waterfront were alive with activity. The Santa Maria departed Bucksport Wednesday morning and sailed to Castine, where she is now docked at Otter's Waterfront Eatery. Tours will be offered this Thursday through Sunday, 10 a.m. to 7 p.m.
Bucksport will also be hosting a downtown festival on Saturday, July 17 from 10 a.m. to 10 p.m featuring live music, displays, cornhole tournament, merchant specials, movie on the sail and fireworks over Fort Knox.
The Town of Orrington continues their Old Home Week events through July 24. Maritime history presentations, bean suppers, the Fire & Rescue Open House, an ice cream social, a wiffle ball tournament, the live-action hands-on Remote Control Expo and more, round out their festivities.
Searsport is looking forward to hosting the events planned for July 18. For several years Searsport recognized its maritime heritage with events organized by Selectman Jack Merithew, now deceased. He was also a co-chairman of our 175th Anniversary Committee before his passing. The Town of Searsport looked forward to this event to be held in his honor. Shipping has always been and continues to be a great part of who they are as a community. The events in Searsport, including live music, food trucks and picnic in the park, movie on the sail and more, will be held in Mosman Park from 12 noon-9:15 p.m., culminating with a fireworks show over the harbor.
The Ships
For the first time n 40 years, Tall Ships will ply the waters of the mighty Penobscot! What awesome sights will behold the visitors to the Lower Penobscot River basin in July! Grab your cameras to capture these historic moments and visit the many viewing sites along the river. Get up close and even tour some of them when they are in port.
The Tall Ship Santa Maria will cruise up the Penobscot River and will be in Castine at Otter's Waterfront Eatery on July 15-18.
Santa Maria schedule and tickets, click here.
3Dirigo, the 3-D printed patrol boat built by the University of Maine, will be on display on land in Bucksport (July 17) and Searsport (July 18).
The American Cruise Line's impressive new 6-story, 288' Constitution will be in Bucksport on July 17. No tours... just a great vessel to see!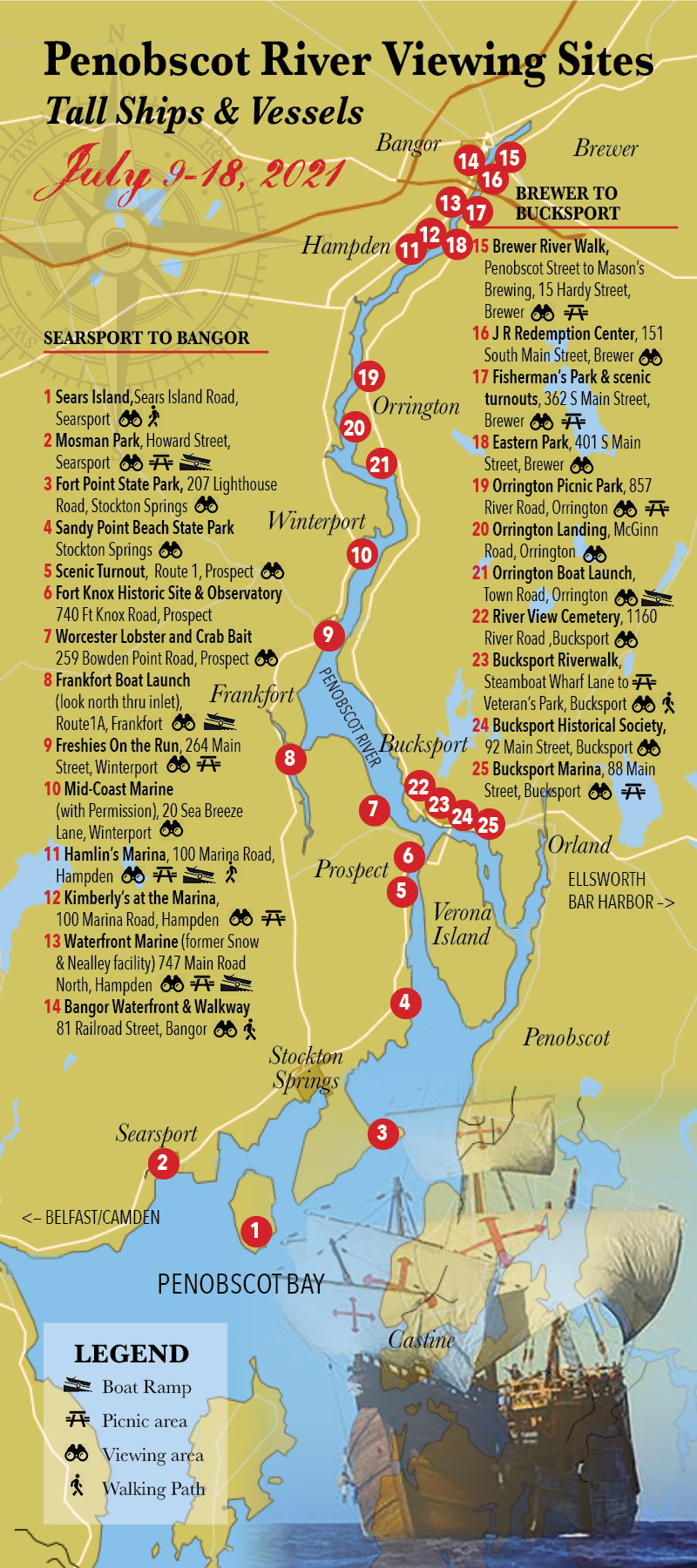 Use this Quick Guide & Map to the 4-Port Loop with boat launches, picnic and viewing sites noted.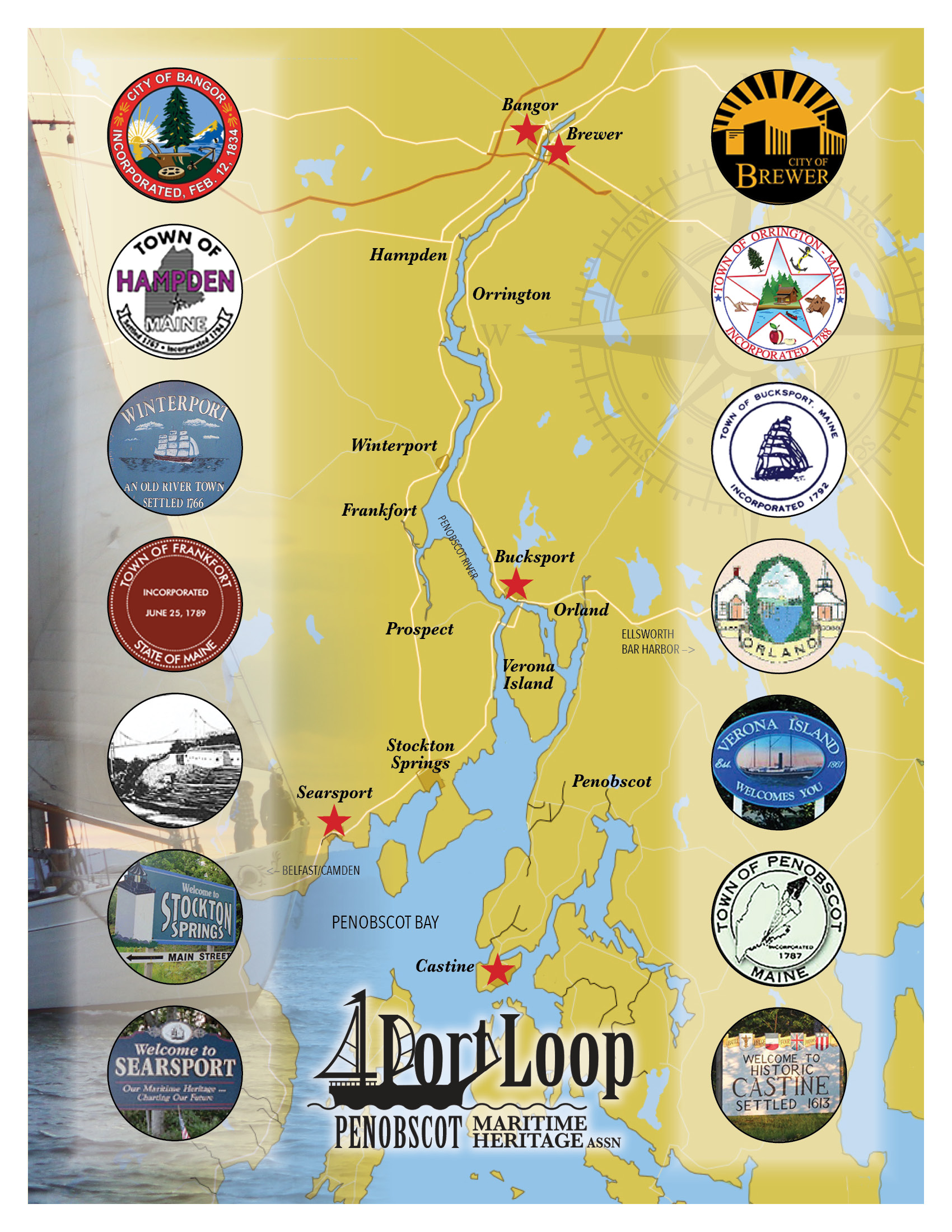 The cell phone apps (4portloop.oncell.com for Android phones and 4portloop.STQRY.app for iPhones) will guide travelers through the key historical sites, public access and viewing sites along the 4-Port Loop. It will be accessible whether you are traveling by car, boat, bike or on foot. It is perfect for packing a picnic and taking the family on a drive through the hidden treasures of the Lower Penobscot River basin. The app can be used anytime and year-round.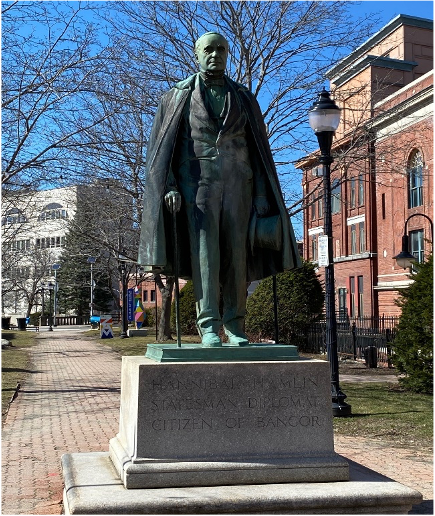 Statue of Hannibal Hamlin, Vice President under President Abraham Lincoln. This statue is between Central and State Streets in Bangor.
Tour of all 15 historical markers and monuments in the cities of Bangor and Brewer.